Library Volunteers
Most of our collection is comprised of NLS recordings and commercial audio books, but our library also produces in house recordings at our Santa Fe location with the help of our volunteers! Volunteers lend their voices and review titles that are often of New Mexico interest such as The House at Otowi Bridge by Peggy Pond Church to ensure each recording matches the original work and are of high quality before they are available to be distributed on cartridge or as a BARD download. The volunteers also help us with repair and maintenance of the digital players we distribute so that our supply is always ready for the next patron.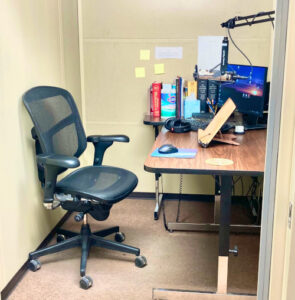 If volunteer work at our Santa Fe office interests you, please contact John Mugford at (505) 476-9772.
The Friends of the New Mexico Library for the Blind & Print Disabled
Friends of the New Mexico Library for the Blind and Print Disabled, Inc. is an association of persons and organizations interested in helping the blind and print-disabled persons of New Mexico by supporting and assisting the New Mexico Library for the Blind. The Friends increase, improve, and make better known the resources of the library; they encourage public support, understanding and use of the library; they apply for and receive grants, gifts, and bequests for the benefit of the library; they establish and maintain a fund to accomplish this for the benefit of the library; and they undertake various related activities in aid of the library. The Friends' group is a 501 (c) (3) not-for-profit organization.
The Friends have provided substantial funding to the improvement of the local recording program and have contributed to the annual volunteer recognition event.
Anyone interested in contacting the Friends regarding participation or donations may call the LBPD at 505-476-9770 or 1-800-456-5515 (in New Mexico). The Friends meet on a quarterly basis in the meeting area of the LBPD.
Listed below are its current officers:
John Pound, President
Vacant, Vice-President
George McFall, Treasurer
Susan Bloch, Secretary