Hello again.
When's the last time you said hello to the New Mexico State Library?
It's time we reintroduced ourselves.
10 things you didn't know about the State Library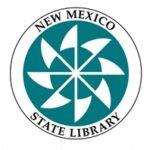 Collections galore.
Looking to piece together your family tree? Genealogy is just one of the many collections available at the NMSL for public use. Some of the best kept secrets are the United States Congressional Serial Set, topographic maps, and New Mexico Brand Books. Additionally, our Southwest Collection is a hidden gem for history gurus.
Serious research is done here.
Don't believe us? Check out the Google Scholar search results for a list of books acknowledging NMSL. Start researching your next report, article, or book at NMSL today.
Art, history and culture meet the digital age here.
NMSL has been collaborating with the Center for Museum Resources and El Palacio to digitize and preserve the entire run of the magazine – which has been published for over 100 years. Believed to be the oldest continuously published museum magazine in the United States, El Palacio is a rich part of New Mexico history, and is now at your fingertips online via our digital collection.
Borrow books from the comfort of your home.
The Books by Mail program offers direct borrowing via the postal service to those in rural areas without access to libraries and to those homebound by illness or disability. Peruse the quarterly-issued Books by Mail catalog and place your order by email or phone for free access to books.
We've got your State Docs.
As a State Publications Depository, NMSL has information compiled and published by state agencies as widely as possible – and makes it available to all New Mexico citizens. Think: reports, stats, newsletters, bulletins, impact statements, and more.
We've got your Federal Docs.
Since 1960, NMSL has also served as a Federal Depository Library, offering access to federal information in paper and online in our SALSA catalog.
Did someone say SALSA?
What's better than a one-stop shop? The SALSA consortium allows you to search multiple government and museum library collections from a single database. There is a whole bowl of information available via SALSA. Additionally, El Portal is a collection of databases providing access to magazine and journal articles for all New Mexicans – 24/7 from home, office, academic and school libraries – statewide.
If books could talk…oh wait, they can!
NMSL houses the Library for the Blind and Physically Handicapped, AKA the "Talking Book Library," fulfilling reading needs of nearly 3,000 New Mexico citizens who are blind, visually impaired, physically handicapped, or reading disabled. Patrons are issued playback equipment allowing them to utilize books, magazines and other materials in alternate formats: digital cartridge, cassette, Braille, and electronic text. The mostly recreational reading collection contains more than 60,000 titles across various genres.
NMSL goes beyond our brick-and-mortar.
Which, by the way, is at 1209 Camino Carlos Rey in Santa Fe. Through consulting services and the Tribal Libraries Program, the NMSL Development Bureau is on the ground working with New Mexico's over 100 public and tribal libraries to assist with funding, technology, and programming needs. The Development Bureau also provides resources to implement the Summer Reading Program in public libraries and is working to support new STEM and makerspace initiatives.
10. And, we are literally on the road.
Three NMSL Rural Bookmobiles travel through New Mexico year-round, giving our rural population access to library services. For more than 50 years, the Bookmobiles have put books (and now, magazines, DVDs, audio books, and more) into the hands of those who would otherwise not have access.
"Get Outside the Lines" is a weeklong celebration encouraging libraries to reintroduce themselves and their resources to their communities. We hope you'll come see us soon!
1209 Camino Carlos Rey, Santa Fe // nmstatelibrary.org