The League of Women Voters of New Mexico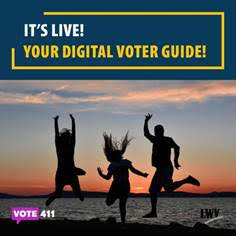 has launched a new online Voter Guide — Vote411.org. For many years, the printed Voter Guide has been the best source for information about local elections.  This year, the Voter Guide is online and interactive, and covers all races throughout the state. Enter your address and you get a personalized ballot – everything from plain language explanations of constitutional amendments to local bond issues and details about the candidates running for office, including their answers to LWV questions. Vote411.org also has information and links to New Mexico specific information including dates, polling places, and other resources.
The League of Women Voters is a nonpartisan organization founded in 1920, as a successor organization to the National American Woman Suffrage Association. In this centennial year celebrating the ratification of the 19th amendment giving women the right to vote, we salute the rich history and current contributions of the League of Women Voters.
Nostalgic for the print Voter Guide? The local Leagues in Santa Fe County, Los Alamos County, Central NM (Bernalillo and 3 other counties) and Southern NM (Dona Ana county), will publish printed Voter Guides. Contact information is available at https://www.lwvnm.org/.