***Join us for a lunchtime chat on Wednesday, June 3 @ 12:00 pm to discuss this upcoming statewide library needs assessment project and what you can do to prepare on the local level by updating your own local community assessments and long-range plans. ***
Have you updated your community assessments and plans lately?
With plans for a statewide library assessment in the works, we decided this would be a great opportunity to encourage libraries to update their assessments and long-range plans. Our State Data Coordinator, Carmelita, crunched numbers and determined that, on average, long range plans in NM's public libraries were dated 2010…(YIKES!) Some libraries are up-to-date, but for a whole lot, those 5 year plans have expired. So ask yourself…
Have you done a community assessment in the past 4 years?
Have you updated your long-range plans in the past 5?
If you answered "no" to either of the questions, you and your board might consider this to be a nudge to get moving and shaking on these projects.
Why Now?
This is a great chance to complete your own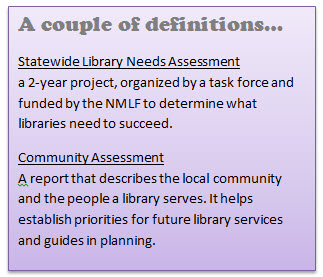 local community assessment in preparation for the statewide assessment of library needs coming up in February 2016. Not only will an assessment inform you on the direction of your library, but it will also help paint the picture of the areas in which libraries can grow to improve services.  Aim to have a needs assessment completed by November 2015.
The Game Plan
The Library Development Services Bureau is gearing up to make it easy for you all, with a series of WebEx Meetings, online classes, and more over the next few months. A full schedule will be posted soon — but join us Wednesday June 3 at 12:00 PM for an introductory WebEx meeting.
Topics that will be discussed in the June online  meeting:
An overview of the statewide library assessment project
Community Assessments – resources for getting info and what the info tells you
Community Needs –Communicating with the public and find out what they would like to see in their library
Long-Range Plans – how a plan guides your library and keeps services focused; resources to help write them
What the Development Services Bureau has planned to support libraries during this project
Questions? Contact Ryanne.