Thomas Branigan Memorial Library is pleased to offer Book Bundles for patrons of all ages for check out beginning Tuesday, January 19.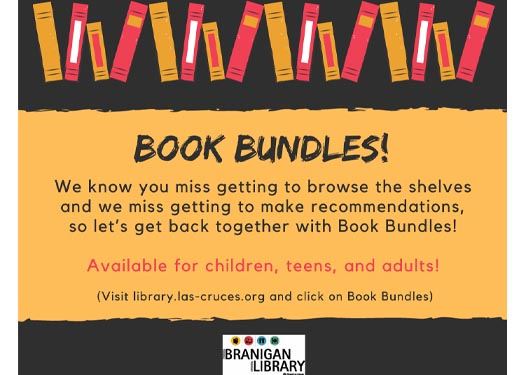 Branigan Library knows that our patrons miss getting to browse the shelves as much as our library staff misses making book recommendations! We are happy to introduce Book Bundles! Book Bundles are thematic packages of three to five books in a variety of genres. There are book bundles available for children, teens, and adults.
Visit the Library's website and click on the Book Bundles tab. Fill out the form for the appropriate category and enjoy some variety in your reading! After ordering, library staff will contact patrons when your bundle is available for pickup.
For information, contact the Children's Department at 575/528-4225 or library.childrens@las-cruces.org or the Adult Department at 575/528-4005 or library.reference@las-cruces.org.