TMFK Exhibit opens on Thursday, February 21, 2020!
Farmington Public Library will host a traveling exhibition designed to teach kids and their families about money, thanks to a competitive national grant from the American Library Association (ALA) and the FINRA Investor Education Foundation.
Thinking Money for Kids is a new multimedia experience for children ages 7 to 11, as well as their parents, caregivers and educators. The interactive exhibit uses games, activities, and a fun storyline to help children understand what money is, its function in society, money choices, and money values, such as fairness, responsibility and charitableness.
The exhibit will be on display at Farmington Public Library along with a series of related special events, from February 21 to March 19, 2020, Monday through Thursday from 10am to 7pm, Friday and Saturday from 10am to 4pm, and Sunday from 1pm to 4pm.
School groups and organizations can visit the library's event online calendar at www.infoway.org to schedule a visit and presentation.   The library would like to host your school from 5:30pm to 6:30pm, please visit the library events calendar to reserve a space.
Guys Read will share "Finance 101 for Kids" and explore money management skills at the Thinking Money for Kids exhibit.  Author/illustrator Joe Wos will design Thinking Money for Kids money maze where participants in the maze can escape by making decisions for a safe economic future.  Adults will provide a workshop and database presentation during the evening exhibits.  Participants can get creative with the Art Shop purchasing art supplies, using play money, to make and/or take art from the make-believe store.
Money is such an important topic, and it's one that we often forget to discuss with our kids," said Library Director, Karen McPheeters. "We encourage people of all ages to come explore Thinking Money for Kids, and we're excited to be partnering with our local elementary schools to host field trips, as well."
Farmington is one of 50 sites selected to host Thinking Money for Kids on its two-year tour of the United States. Nearly 130 public libraries across the country applied for the opportunity, according to ALA.  FINRA Robert Ganem, Melanie Welch from ALA, and Rebecca Joy Norlander,PhD Evaluation team from Knology.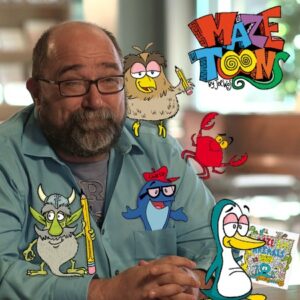 Author, Illustrator, Joe Wos has been a professional cartoonist since the age of 14. His career path over the past 30 years has taken as many twists and turns as one of his mazes, as he finds new and innovative ways to pursue his passion for the cartoon arts.  MazeToons, a unique hybrid illustration that is part cartoon and part puzzle — Joe has fulfilled a lifelong dream to appear in the funny pages.
Library Adventures and Walk-in for "A-maze-ing"
Thursday, February 27 – Library Rotunda
9:30am to 11:30am & 1:30pm to 3:30pm
Walk in during the scheduled hours and watch Joe draw and design "A-maze-ing" Thinking Money for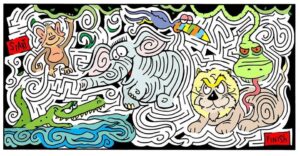 Kids money maze.  Joe creates a maze in front of your eyes.  After the maze is finished see if you escape by making decisions to finish the maze for a safe economic future.  The TMFK maze will be on display in the TMFK exhibit beginning Friday.
Cartooning "Maze Toons" Workshop
Saturday, 10am to 11:30am
2pm to 3:30pm

All ages are welcome to participate and learn some cartooning techniques with Joe Wos.  No registration is required, and supplies are provided for the hour and a half presentations.