Help your patrons learn about New Mexico, your local communities or other areas of the country with Census data. The Census Bureau has numerous tools to help you and your patrons understand the demographics of your area, identify business possibilities, use data for storytelling, and much more.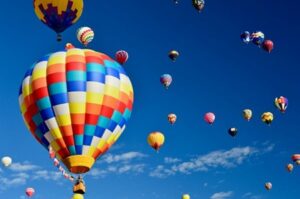 January 6, 2023 is New Mexico's 111th Anniversary of Statehood
Explore Census Bureau data about New Mexico as we celebrate its anniversary of statehood. Learn more about the state using 2020 Census data, geographic profiles from data.census.gov, and other interactive data tools.
New Mexico's population grew 2.8% last decade.
The results of the 2020 Census show that:
The total population of New Mexico was 2,117,522 – an increase of 8% from 2010
1,010,811 or 7% of people in New Mexico reported Hispanic or Latino origin – an increase of 6.0% from 2010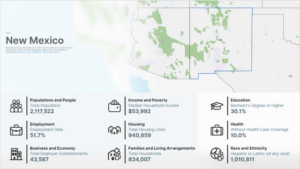 New Mexico is the 5th largest state by area and was the 47th state to join the Union. Learn more about the geography and history of New Mexico.
🔎 Did You Know?
🐦 The state bird is the Greater Roadrunner.
🌄 The state nickname is the Land of Enchantment.
🌇 The largest city is Albuquerque.
Explore our State Facts for Students tool to learn more about New Mexico and test your knowledge of Census Bureau data with interactive trivia games from the Statistics in Schools team.
Help us spread the word about Census Bureau data!
Share this on social media or forward it to a friend.