It's that time of year again, time to start planning for Summer Reading 2019 A Universe of Stories! 2019 marks the 50th anniversary of the Moon landing and the CSLP and New Mexico State Library is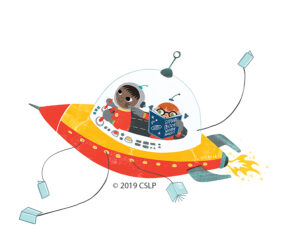 ready to help public libraries celebrate with a space themed summer reading program!
We have 7 workshops scheduled around the state so hopefully no one has to travel very far. The dates and locations of workshops are:
Thursday, November 8th @ Edgewood Community Library 10-3
Tuesday, November 13th @ Eunice Public Library 10-3
Thursday, November 15th @ Alamogordo Public Library 10-3
Wednesday, November 28th @ The Public Library Silver City 10-3
Tuesday, December 4th @ Jemez Pueblo Community Library 10-3 (Tribal Libraries only)
Friday, December 7th @ Farmington Public Library 10-3
Tuesday, December 11th @ Vista Grande Public Library (Eldorado) 10-3
There will be one hour for lunch at all workshops, and I highly recommend you bring a lunch as discussion does take place during the lunch hour.
If you'd like to contribute to the workshop by sharing an idea, a program, a craft, etc. please let me know deanne.dekle@state.nm.us.
To register to attend the workshop please click here and I can't wait to see you all, 2019 is shaping up to be a great summer!