As the day to return the borrowed 3D Printer & Scanner to the New Mexico State Library approaches, I wanted to share our experiences and encourage you to give it a try at your library!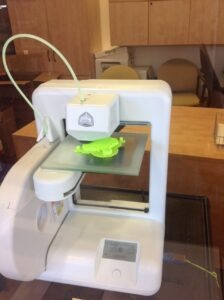 The month of December was our window for sharing the technology with the public because that is when our Children's Program Room was available to be used as a 3D mini-expo space.  The room was set up with several stations:
Cube 3D Printer
NextEngine Scanner
display of arduino/raspberry pi/tinkerkit materials
display information about scanning using apps and an ipad with 123D Catch app open
laptops with free 3D software loaded for people to play with,
We scheduled special sessions, starting in-house then branching out to the community, to share the technology with groups including:
RRPL Librarians & Staff
Teen Advisory Group (RRPL)
Rio Rancho Friends of the Library
Rio Rancho Library Board
Local Homeschoolers
Rio Rancho Public School (RRPS) Librarians
RRPS Ed Techs
NM librarians who attended the SRP workshop at Loma Colorado
5th Grade class school field trip
We also had 4 sessions for the general public at different dates and times.  Three of the sessions were held in the Children's Program Room, and one session was held in the auditorium on a Saturday afternoon.  A free raffle for the opportunity to print an item (of limited size) was offered to all attendees of the 3D events.   Here is the flier we used to advertise the sessions:
Also during December the 3D printer was on display in the YS Manager
office which has glass windows looking into the library children's areas.  Patrons could view the printer while it was printing; the printer and patrons were separated by the glass so that even small children could safely watch.  We printed some larger objects so the printer didn't require frequent attention, other than to show it to patrons.
People were excited to see the technology, dream up their own designs, and learn a little bit more.  Many were interested in an opportunity to print something, but time limitations didn't allow for that, so the raffle was a good answer to that problem.   Over 500 people visited the 3D Printer while it was here – Thank you to the New Mexico State Library!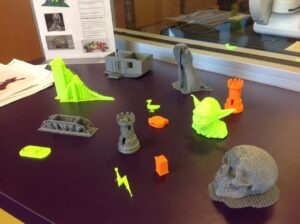 Some of the objects we printed!
If your library is going to give this a try, the information we collected/created here (hints for operating the printer, PR materials and handouts, etc.) are available via NMSL as well.  Have fun!