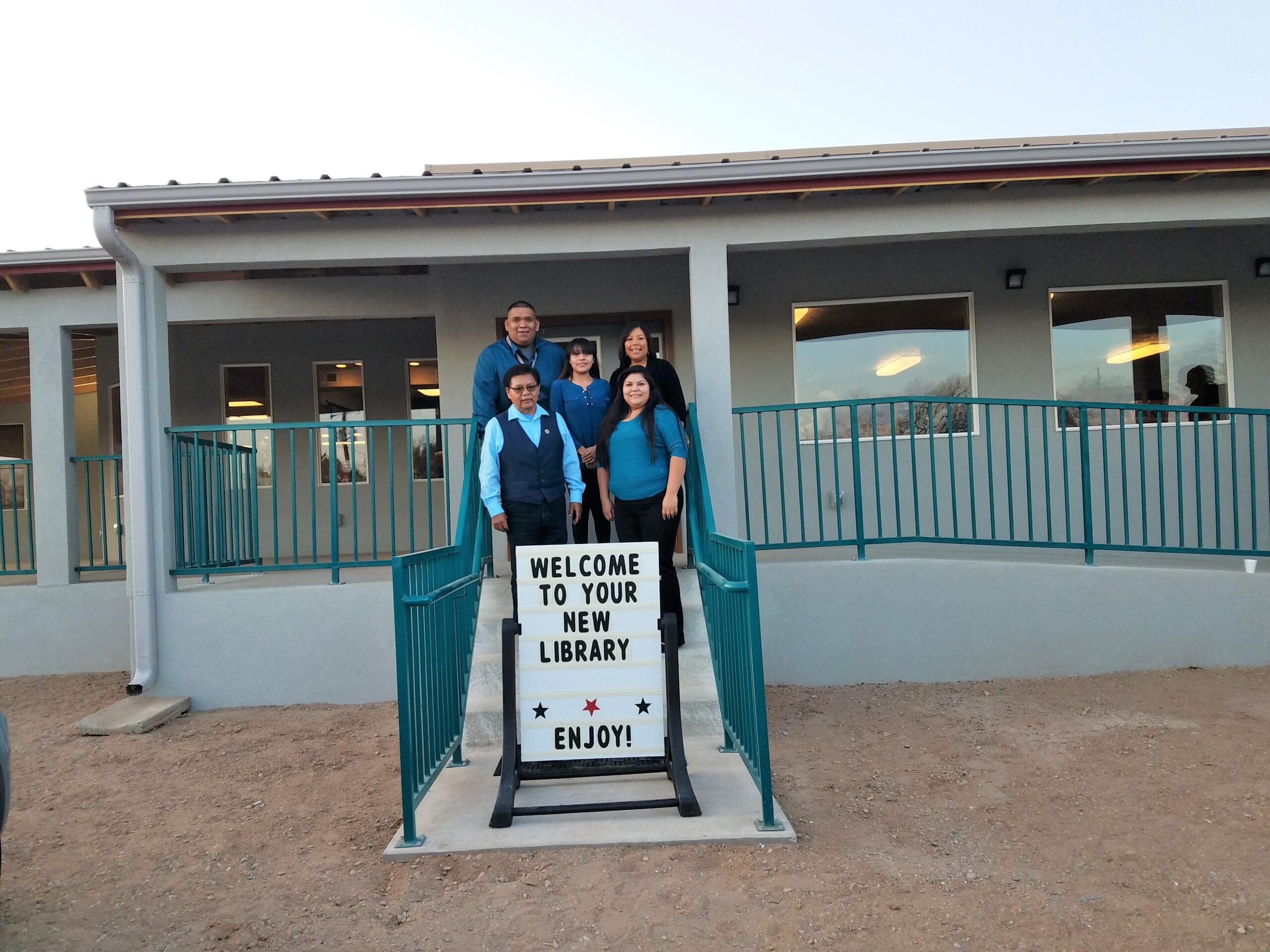 — Contributed by Alissa Chavez Lowe and Jennifer Schiffmacher
Katishtya Community Library
A grand opening was held on December 14, 2017 to introduce the new Library to community members as well as distinguished guests.  The Library spans 3,953 square feet compared to the old library's 2,068.  However, it is more than square footage that is exciting.
The library expansion includes an outside deck area with 3 charging stations with USB ports and Wi-Fi that is available 24/7. The library is open 9 a.m. -7:00 p.m. Monday-Thursday and 9:00 a.m. – 5:00 p.m. on Fridays.  It is closed from 12:00 to 1:00 every day for lunch.
For those 13 years and older, there are 12 desk top and 12 laptop computers that can be checked out for
up to 2 days.  The library offers free printing, faxing and copying.  For the younger children there are computers with educational games that will help them with math, spelling and other cognitive developmental functions as well as hand/eye coordination.  There library content is geared to all ages with adult sections for both books and DVDs.
The Pueblo received a $1,000 award from the New Mexico Library Foundation to purchase between 30-35 new graphic novels.  The Pueblo of San Felipe Community Library is striving toward expanding its reach to teens in the community especially those who may not be familiar with all that a library offers.
In terms of addressing literacy the choice of graphic novels is deliberate.  Research shows that graphic novels attract and motivate youth to read. Those youth who are not interested in reading or prefer gaming or watching media, can be pulled into a story by the visual elements of graphic novels.  Many youth have English as a second language or have reading development challenges, the illustrations provide contextual clues to the meaning of the written narrative and encourage reading.  The Graphic Novel collection should be available by Mid-March 2018.
The Katishtya Community Library offers a variety of services which are listed below:
Katishtya Language Program:  Tuesday & Thursday from 4:00 – 5:00 p.m. It is open to anyone.
After School Tutoring for K-12:  4:00 – 6:30 p.m. 3 days a week, Tuesday – Thursday.
Monthly Arts & Crafts & Movie Nights:  Will begin again in January 2018.
An Invitation:  With the expansion and all the excitement it brings, the Library Board will play an important role in continuing to shape the future role the Library plays within the San Felipe community.  There are three openings remaining on the Board and we encourage you to stop by the Library and pick up an application. Board membership is open to students 8th grade and up and adults.
If you would like additional information, Alissa Chavez Lowe, Director, and Amber Garcia, Librarian, will be able to assist you.