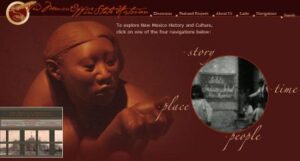 If you happen to have several hours to spare (maybe it's snowing and no one is coming to the library?), then get to know the website of the Office of the State Historian at http://www.newmexicohistory.org/.
"The Office of the State Historian is a division of the Commission of Public Records, State Records Center and Archives.
The mission of the Office of the State Historian is to foster and facilitate an appreciation and understanding of New Mexico history and culture through education, research, preservation, and community outreach"
The site is full of excellent articles and images to help you answer New Mexico history questions. Be aware, though, that you cannot download images from this site; they have wisely disabled the right-click features on all images.
The main navigation of the site is hard to explain, and best experienced. Articles are divided into main categories of Story, Time, People, and Place. Click on one of these main categories to enter an interactive area where you can select a topic of interest. The display is beautiful, but requires you to enter into its mindset to navigate. The "search" feature will let you use a brute force approach if you don't have time to wander.
If you prefer to listen to your history, don't miss the podcasts (look for a tiny menu item in the lower left). It's possible to subscribe to these so you don't miss an update. Today in History (another tiny lower menu item) is also fun, but there are days when apparently nothing has happened in New Mexico… (which maybe something I love about this place).
In the Featured Projects section you'll find extensive resources on the Centennial, J. J. Bowden's Private Land Claims of the Southwest, the Tierra Amarilla Interactive Exhibit, and a fascinating collection of New Mexico oral histories (including some in Native American languages) called Telling the Stories.
If you can't answer your question from here, the links to other sites will probably get you where you need to be. If not, don't forget that you can ask for reference help from the State Library.