In celebration of the Shakespeare's First Folio exhibit at the NM Museum of Art, the State Library is sponsoring events to celebrate this wonderful exhibit.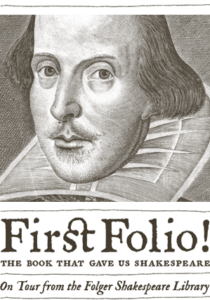 Michael Gelb presents Discover Your Shakespearean Genius
Los Alamos County Library, White Rock Branch
Saturday, February 13th @ 2:00 PM
Imagine applying the wisdom of Shakespeare to improve your self-knowledge and interpersonal relationships. According to Michael Gelb, author of Discover Your Genius: How to Think Like History's 10 Most Revolutionary Minds, Shakespeare's poetry and plays offer profound lessons for cultivating emotional intelligence. In this engaging and compelling program, Gelb brings Shakespeare to life in a way that will deepen your self-understanding and your insight into others.
Brown Bag Discussion: 1623 in Print in NM with State Historian
State Library, Yucca Room
February 19, 12:00-1:00 PM
Rick Hendricks, State Historian, will provide an overview of books that would have been typical of the very early 17th century in Spanish Colonial New Mexico.   He will review a bibliography created in collaboration with the State Library which includes the titles of popular books of the time that Spaniards were reading and carrying with them on the El Camino Real de Tierra Adentro to Santa Fe.  Shakespeare may have read some of  these popular works as well.
Santa Fe Performing Arts presents Shake Hands with Shakespeare!
Espanola Public Library- Saturday, February 20th, 11 AM
Irene S Sweetkind Library, Cochiti Lake- Friday, February 19th, 2 PM
Vista Grande Public Library- Friday, February 19th, 4 PM