Submitted by Cassie McClure, Communications Specialist at NMSU Library
Panel Discussion: Police, Public, and Press: Shining Light on Officer Shootings
The New Mexico State University Library, NMSU Department of Journalism & Mass Communications, and NMSU Alumnus Tim Parker presented "Police, Public and Press: Shining Light on Officer Shootings" on Thursday, April 2, 2015. The event commemorated Sunshine Week, which celebrates the public's access to information, open records, and open government.
The panel discussion, attended by over seventy members of the community and students, examined how open records laws have been affected with recent officer-involved shooting occurrences in our region. Panelists for the program were New Mexico Foundation for Open Government (NMFOG) Executive Director Susan Boe, Las Cruces Sun-News Opinion Page Editor Walter Rubel, Doña Ana County District Attorney Mark D'Antonio, Constitutional law expert and trial attorney Michael Stout, Doña Ana County Sheriff's Office Capt. Michael Kinney, and NMSU Police Chief Stephen Lopez.
Midterm Madness!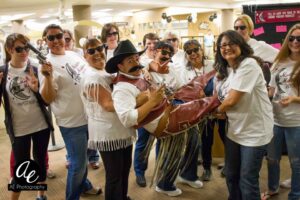 The New Mexico State University Library hosted their first ever Midterm Madness event, presented by Firstlight Federal Credit Union. The event was held on Thursday, March 12, 2015 from 8-10 p.m. on the first floor of Zuhl Library.
Midterm Madness is an event targeted specifically for students to build awareness for Zuhl Library's extended hours and new student spaces. Zuhl Library is now open until 2 a.m. Monday through Friday due to support from student fees. New technology-enabled student study areas on the 2nd floor of Zuhl Library were unveiled and tours of the spaces will be available for those who wish to learn more about these new spaces available for students. Due to its success, the NMSU Library hopes to make this a yearly event.
Food, music, give-a-ways, door prizes and a photo booth were available to those in attendance. An Instagram campaign was created where the person with the most popular photo will win a $25 Barnes & Noble gift card. Pistol Pete was on hand from 8-10 p.m. to take photos with attendees.
-Cassie McClure, NMSU Library Communications Specialist