On August 21st, the country celebrated a solar eclipse. New Mexico was not in the path of totality (the entirety of the sun covered by the moon) but we were supposed to get around 80%. Public libraries were given the opportunity to get free solar eclipse glasses from NASA and StarNet in 2016 in anticipation of the event.
Some of the state was under cloud cover during first contact (approximately 10:22 A.M.) as well as during maximum eclipse at 11:46 but that didn't deter people from trying!
Taos had clear skies and made a morning of the event. At 10:30 am they hosted a lecture by Luke Hovey, Postdoctoral Researcher in Astrophysics at Los Alamos National Laboratory. They had 37 people attend the lecture including a few teens from the GED/HSE programs at Taos Education & Career Center at UNM-Taos. They had 25 pairs of eclipse glasses we had were used by around 75 or more people. They had a few pinhole cameras already made, but patrons also brought their own. Dr. Hovey also brought a telescope for everyone to look through. They also posted a link to the NASAtv feed of that totality on our public access computers, but a majority of their patrons were outside watching the eclipse.
Airing the NASA feed was a popular part of the programming. At the Alamogordo Public Library they didn't host their own event, but when the parents at a local school realized their kids were going to be kept inside, they reserved their meeting room. About half the school showed up with their parents, they had crafts and snacks (Eclipse cookies! Blue moon punch!), and they shared their glasses with patrons who wandered through. Library staff set up the projector screen with NASA's live feed. Families stayed to check out books and sign up for library cards. An easy, friendly partnership that has already shown fruits.
Staff at the Roswell Public Library took a moment out of their day to look up at the sky.
Director of Bloomfield Public Library, Peggy Loyd was prepared well in advance with her glasses.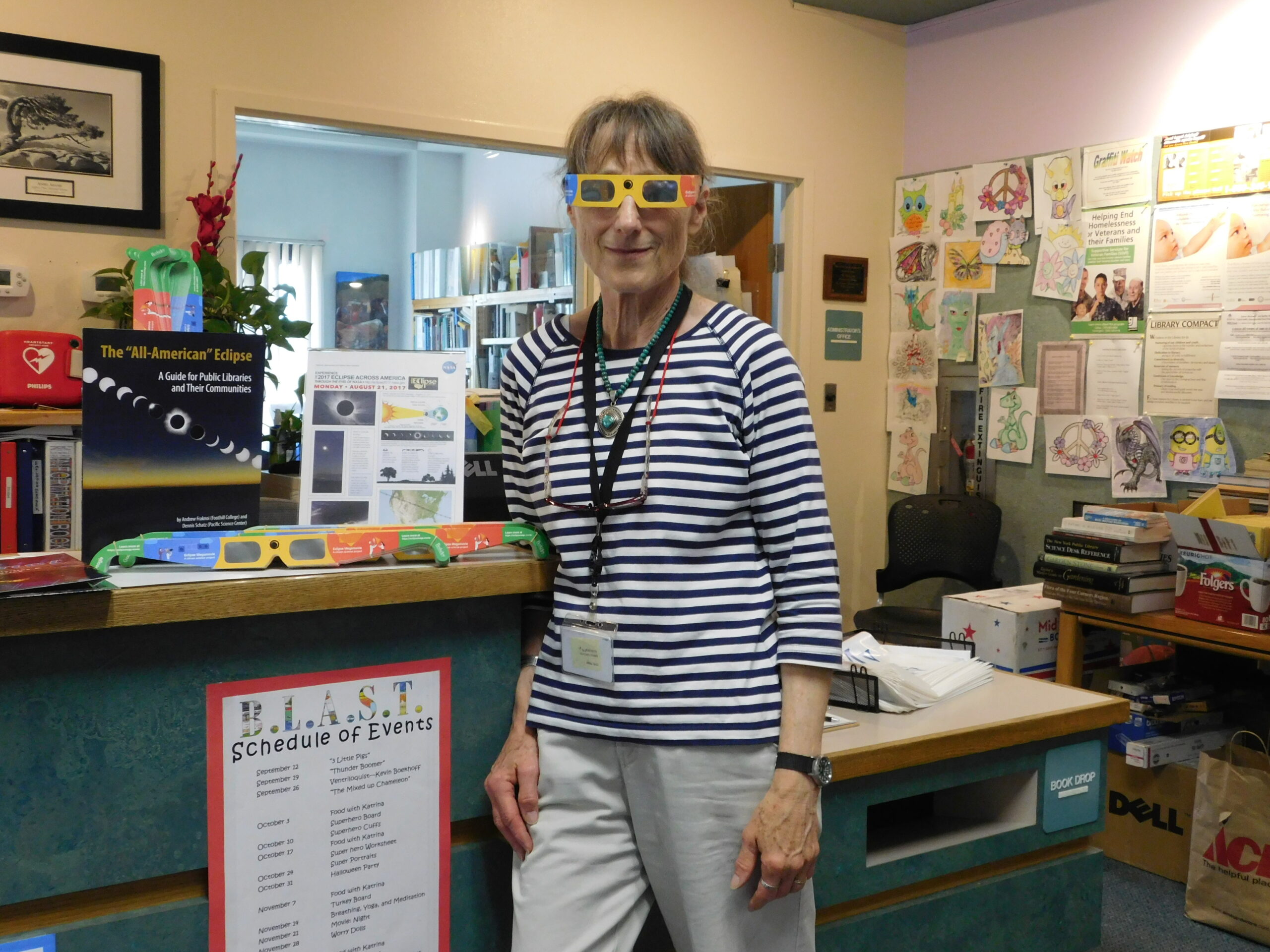 At Espanola Public Library they had activities centered around the eclipse before they headed outside to look up.
The Public Library Albuquerque Bernalillo County handed out 1,000 glasses at each of 7 open branches that hosted events.
The Rio Rancho Public Libraries persisted despite the cloudy skies. They set up information and activity stations indoors and and out on the patio and also livestreamed the eclipse in their auditorium. Most of their materials were provided through a NASA @ My Library grant.
The Artesia Public Library had a kind of last minute celebration that was a lot of fun. They live streamed NASA TV's broadcast from 10am to 2pm. They made pin hole viewing devices out of aluminum foil and cardstock. Patrons painted galaxy pendants, made chalk eclipse art, and had eclipse themed snacks. The Director, Erin Loveland also had printed out the map of the eclipse path from NASA's website, as well as educational handouts. They had one pair of solar eclipse glasses that they all shared and took turns using.