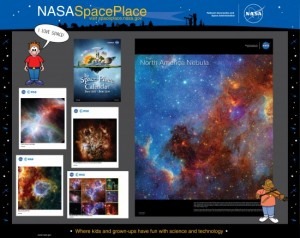 If you can dedicate some wall space to NASA, NASA will will send you material to display, for free, that will be interesting to any age group: from weather and earth science to quasars and black holes.
"All you have to do to become a community partner," according to Laura K. Lincoln, the Communication Coordinator for NASA's Space Place Team, "is commit to establishing a permanent wall display. We supply the Space Place borders and display materials. You will get new material every three months. It's absolutely free, it requires very little staff time, and it's a great way to bring a bit of NASA directly to your community. All we ask in return is a photograph of the display once a year."
For more information, or to become a partner, send an email to Laura.K.Lincoln@jpl.nasa.gov or read the full blog post on UpNext, the official blog of the IMLS.