Mary Alice Tsosie, a member of the Navajo Nation Whitehorse Chapter, was honored recently with a plaque presented by the Native American Libraries Special Interest Group (NALSIG) of NMLA. The plaque reads "Outstanding Leadership Award Presented to Mary Alice Tsosie in Grateful Appreciation for your Superior Leadership Qualities and Dedication to the Native American Libraries Special Interest Group". She served as Chair of NALSIG for 10 years and at the leadership level of NMLA as President of the Association.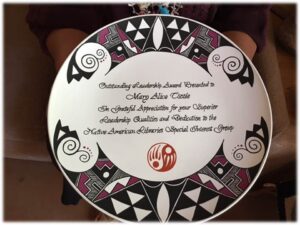 Mary Alice most recently served as the Program Planner of the Native American Oral History Program at the Center for Southwest Research at the University of New Mexico. This project documents interviews with approximately 45 leaders either Native American or working with Native Americans. Before working on the Oral History Project at UNM, she was with the Indigenous Nations library program and also an advisor to the Kiva Club. She was involved in initiating the Navajo Studies Conference and served three terms on their board.  She was one of the Coordinators of the Indigenous Book Festival which is in its fourth year.
Born in Crownpoint, she attended boarding schools there and Fort Wingate. After the age of 13, she was raised by a family in Wisconsin where she began her library career with the Great Lakes Tribal Council American Indian Library program and coordinated the establishment of their first library. She returned to New Mexico in 1995 with her three daughters. Mary Alice has now retired after 21 years of service with New Mexico Libraries and is moving to Minnesota where her daughters and grandchildren are presently living to be closer to her family. Mary Alice will be greatly missed and we appreciate her dedication over the years.