Socorro Public Library was fortunate to receive another visit from The Parachute Factory for a three day series of workshops. This visit was part of the NMSL sponsored Makerstate Tour, and brought another round of smart, engaging, and challenging STEM activities to the youth of Socorro. On day one, children (and adults) sent messages through pneumatic tubes, and tinkered with coding basic commands on PC's to operate switches, and light up diodes.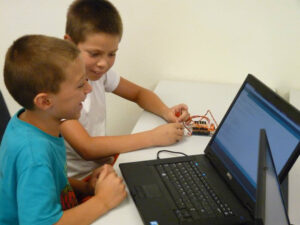 Day two was all about 3-D scanning and printing. The participants were excited to help scanning each others profiles and printing them in 3-D miniature.
On Day three participants got to design their own 3-D projects, and there was even some time to print out the end results. For those of you who want to try some simple Computer Aided Design (CAD), the software is available under tinkercad.com.
Many thanks to the Parachute Factory for providing superb educational activities, and to the NM State Library for enabling us to bring cutting edge technology, and engaging activities to the communities we serve.