This summer, the New Mexico State Library will sponsor a series of "makerspace" programs to public libraries, in conjunction with "Fizz, Boom READ!" summer reading and the Makerstate Inititative. The New Mexico Makerstate Initiative is led by Parachute Factory, a com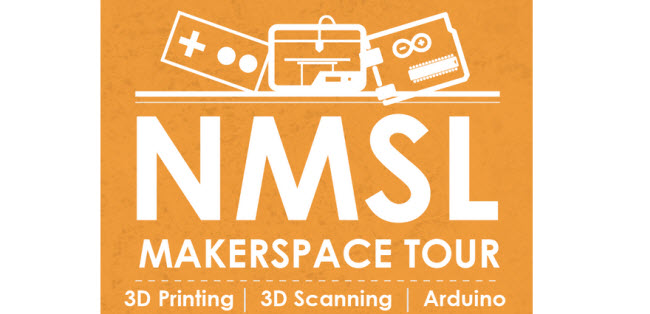 munity makerspace in rural Las Vegas, NM, in partnership with the New Mexico Department of Cultural Affairs, the New Mexico State Library, New Mexico Highlands University, AmeriCorps, and several local libraries and museums across the state.
The goal of the New Mexico Makerstate Initiative is to excite NM communities about STEAM (science, technology, engineering, art, and math). The Makerstate Initiative encourage participants to reclaim New Mexico's rich heritage of making, and introduces exciting new technologies in a fun and accessible way.
The programs will vary in duration – from 3-day workshops to one-off 2-hour programs. Programs will feature 3d printing demonstrations, Scratch computer programming workshops, MaKey MaKey workshops, sewable electronic programs, and more! Contact libraries for more details about times of programs, which program they will be hosting, and registration requirements.
2014 Summer Makerstate Tour Stops:
June 24, 2014 // 10:00AM // Taos Public Library // 3D Printing & Scanning
June 25, 2014 // 12:00PM // Taos Public Library // Makey Makey
June 26, 2014 // 1:00PM // Questa Public Library // 3D Printing & Scanning
June 30, 2014 // 12:00PM // Bloomfield Public Library // 3D Printing & Scanning
July 1, 2014 // 10:00AM // Farmington Public Library // Makey Makey
July 1, 2014 // 2:00PM // Farmington Public Library // Intro to Arduino
July 2, 2014 // 1:00PM // Aztec Public Library // 3D Printing & Scanning
July 3, 2014 // 9:30AM // Aztec Public Library // 3D Printing & Scanning
July 8, 2014 // 2:30PM // Magdalena Public Library // Pneumatic Tubes  
July 9, 2014 // Socorro Public Library
July 10, 2014 // Socorro Public Library
July 11, 2014 // Socorro Public Library
July 16, 2014 // 4:00PM // Erna Fergusson Public Library, Albuquerque // 3D Printing & Scanning & Repair Cafe
July 17, 2014 // 10:30AM // Edgewood Community Library // Toothbrush Robots & Makey Makey
July 18, 2014 // 2:30PM // Corrales Community Library // E Bookmarks
July 19, 2014 // 2:00PM // Esther Bone Memorial Library, Rio Rancho // Toothbrush Robots
July 29, 2014 // 1:00PM // Vista Grande Public Library, Santa Fe // Pop Up Makerspace Event
July 30, 2014 // 2:00PM // Santa Fe Public Library // 3D Printing & Scanning
July 31, 2014 // 2:00PM // Española Public Library // 3D Printing & Scanning
August 1, 2014 // 11:00AM // Pueblo of Pojoaque Public Library // Pneumatic Tubes 
August 6, 2014 // 10:00AM // Santo Domingo Pueblo // Pop Up Makerspace Event
August 7, 2014 // 10:30AM // Village of Bosque Farms Public Library // Pop Up Makerspace Event
August 8, 2014 // 1:00PM // Village of Los Lunas Public Library // Pop Up Makerspace Event
This project was made possible in part by the Institute of Museum and Library Services [LS-00-14-0032-14]."