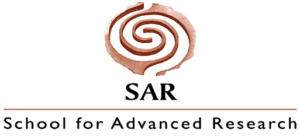 Position Announcement at the School for Advanced Research.
LIBRARIAN
Academic Programs Division
The School for Advanced Research (SAR) has an opening for a librarian. This position is responsible for all aspects of library operation and administration, collection, and resource development, services and organization. Position is full-time (30 hours per week), non-exempt. Position is paid hourly, $25 to $30, based on experience. Benefits are included at a shared cost with SAR.
CHARACTERISTIC DUTIES:
Creates policies for collection development and procedures for materials acquisition

Plans and initiates activities for the acquisition and cataloging of library materials

Catalogs materials using MARC-based KOHA database to provide access to library, archival, and records materials

Oversees acquisition of appropriate archival collections; organizes and documents appropriate storage and cataloging for scholarly access to the materials

Consults in administering and maintaining KOHA, the online, open-source library cataloging software

Provides reference assistance for and ensures access to archival materials and manuscript collections

Provides interlibrary loan (ILL) service for staff, scholars, and research associates and assists researchers as needed

Maintains organization of library materials for access and preservation

Maintains copier, scanner, and fax for scholars and other visitors and trains users on their function

Accepts, organizes, documents, and provides access to records for all divisions at SAR

Administers budget and maintains records for budget review and analysis

Organizes and implements library services for scholars and staff

Conducts literature searches and obtains reviews for reviews of books nominated for the J. I. Staley Prize; maintains related files

Supervises library volunteers, training them on multiple library operations and overseeing special projects as assigned

Runs the online bookstore through ABE and Amazon, an online business for selling used and rare books not appropriate for SAR's collection

Sets annual plan of work goals for the library and participates in the strategic planning process

Other responsibilities as assigned
SUPERVISION: The librarian reports to the scholar programs director.
REQUIRED QUALIFICATIONS: Education—Master's degree in Library and Information Sciences. Experience—Minimum of five years, one year of which should include supervisory experience with volunteers. Professional knowledge of library organization; skills including material selection, cataloging, interlibrary loan, reference; and the same skill set for the archival needs of the library. Ability to analyze needs of library users and develop ways to meet those needs. Ability to organize time-sensitive priorities. Ability to work with people of diverse cultures and backgrounds. Strong computer skills, including word processing, cataloging and database programs, and Internet searching for academic reference. Ability to use Worldshare and to conduct interlibrary loan borrowing procedures. Solid knowledge of budget procedures. Familiarity with records management and archival principles.
DESIRED QUALIFICATIONS: A special research librarian, preferably with experience in anthropology. Experience running a library independently.
To Apply: Please send in one consolidated .pdf your cover letter, resume, and a list of three professional references to sandoval@sarsf.org. Final date for application submissions is Thursday January 31, 2019.