The results of the New Mexico Letters About Literature competition have officially been announced on our site – https://lettersaboutliterature.nmculture.org/​.
Letters About Literature is a reading and writing competition which challenges students to write to an author and describe how his or her book affected them. This annual competition is ​made possible by the New Mexico State Library which is a division of the New Mexico Department of Cultural Affairs and an affiliate of the Library of Congress Center for the Book.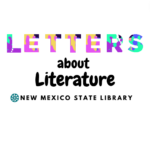 Visit the site to read the three winning letters and see a list of the second, third, and honorable mention winners, as well as a list of the writers who advanced to rounds two and three state level judging.
Each writer whose letter advanced to round two will receive a letter and a certificate of recognition in the mail.  Honorable mention writers will  receive a gift card for Collected Works Bookstore in addition to their certificate of achievement.  The first place state champion, second and third place letter writers will receive a cash award in addition to a special award certificate, which will be sent in the mail.