The Land of Enchantment Book Award is a
yearly award voted on by students in New Mexico. There are 4 categories: Roadrunner (grades K-3), Coyote (grades 3-5), Lizard (grades 6-8), and Black Bear (grades 9-12). There's a committee made up of educators and librarians from around the state who create short lists for students to vote on in the spring and summer. The winning authors (and illustrators) are awarded traditional pueblo storytellers.
2021 marks the 40th anniversary of this award.  How well do you know your Land of Enchantment Book Award?  Test your LOE Lore with these trivia questions:
In 1981 the first LOE award was chosen by young readers in New Mexico.  What book was selected?
Over the past 40 years there have been a few authors that have been selected more than once.  Which author was declared a winner by NM youth on three different occasions?
For many years a single book was selected as the LOE winner.  In what year were categories introduced as part of the award? (Bonus- can you name the two categories?)
In what year did the LOE categories expand again into the 4 categories (Roadrunner, Coyote, Lizard, Black Bear) voted on today?
The current LOE logo includes our state flower, the yucca.  What did the previous LOE logo look like?
Answers:
Ramona and her Father by Beverly Cleary
Louis Sacher won the LOE award in 1990 for There's a Boy in the Girl's Bathroom, 1992 Wayside School is Falling Down, and again in 2001 for Holes
The categories of "Children's" and "Young Adult" were created in 2000
2016
The original logo was a black and white Zia symbol that centered around the silhouette of a book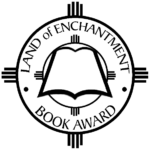 Written by Terri Gaussoin and Deanne Dekle