At the end of June New Mexico made the news in one of the worst ways possible, earning the lowest ranking of all states for well-being of children. The scrap of good news is that New Mexico, previously ranked 49th in the nation, actually improved in many areas; we dropped to 50th because Mississippi, the former number 50, improved more.
This is bad news, no doubt, but there is a small, shredded silver lining. The report in question comes with a stellar website full of data that will provide excellent support for your funding requests and grant applications, especially for grants dealing with literacy or health.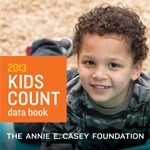 The rankings are made by Kids Count, an initiative of the Annie E Casey Foundation. Data for New Mexico is compiled by New Mexico Voices for Children. The downloadable report and underlying data are available at the Kids Count Data Center. There are many prepared pages that are very helpful, but the loveliness of the Data Center website lies in its interactive nature. You can use the custom reporting features to generate many different reports, showcasing the exact data you need to support your funding or grant proposal. It's easy to generate comparative data.
Best of all (and not immediately apparent), the data is available at many levels below the state level. You can generate data by county, municipality, congressional district, school district, or tribal area. It's worth looking at all these levels since different levels support different data. You can also see data in different ways: numerical reports, graphs, charts, and in some cases maps.
The base page for New Mexico shows the different indicators (data points) available. From here you can customize locations and topics to get just what you want (see the left side of the screen) or report on a prepared indicator (center of the screen).
From this general New Mexico profile page you can see how the state ranks in various areas, or click New Report (right side, just above the data) to create a custom report of your own.
This all sounds more complicated than it is – head to the site and play around. Let's find ways to change the numbers.
(The NM Voices for Children press release about the report may also be of interest.)