Great Reads from Great Places: New Mexico 
The New Mexico Center for the Book has selected one youth book and one adult book to represent the state at the 2022 National Book Festival: "Shaped by Her Hands: Potter Maria Martinez " byAnna Harber Freeman and Barbara Gonzales, illustrated by Aphelandra; and, "The Five Wounds" by Kirstin Valdez Quade. 
Both titles will be part of National Center for the Book's Great Reads from Great Places program. Great Reads from Great Places features books and authors representing the literary heritage of all 50 states, the District of Columbia, Puerto Rico, the U.S. Virgin Islands, Guam, American Samoa, and Northern Marianas. For over 20 years this program has included a highlighted youth title from each affiliate center. In 2022, "Great Reads from Great Places" is including titles for adults for the first time. 
"We are pleased to showcase these books about New Mexico and share them with this year's National Book Festival participants," said New Mexico State Librarian Eli Guinnee. "The National Book Festival brings booklovers together from across the country and beyond to celebrate reading, literacy, authors, and community." 
This year's National Book Festival on September 3 will be held in-person in Washington, D.C., but will include many livestreamed and recorded virtual programs celebrating books and authors. Freeman and Gonzales will take part in an online panel conversation with other chosen authors from state Centers for the Book in the Western Region to talk about their book and what inspired them.  
This and other panel discussions will be posted toward the end of August on the National Book Festival website and theLibrary of Congress's YouTube channel. You can also find out more about the New Mexico titles, find activities for children, and view additional videos by the authors at the New Mexico State Library National Book Festival site.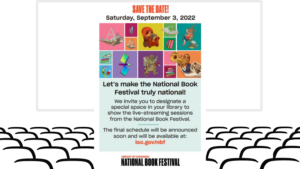 From the Book Festival Blog: Help us Bring the National Book Festival Near You
The Library of Congress also invites libraries across the country to host National Book Festival watch parties.  Working with organizations across the country ensures that this is truly a national book festival. Would your library like to host a watch party of the livestreamed stages?  Organizations that host watch parties on September 3 will be listed on the National Book Festival website at loc.gov/bookfest.  Please submit your information via this form by August 15: 
https://www.research.net/r/2022NBFNationalPartnershipEventRegistrationForm