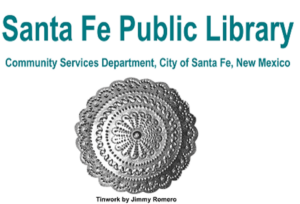 Santa Fe Public Library is hiring a Library Section Manager for Programs.
FLSA Status: Exempt
Union Status: Non Union
Salary Range: 16 ($26.186 – $39.28)
Posting Closing Date: 10/29/2023
General Definition of Work
Manages, supervises, and oversees operations in a library section within the Library System.
Education Requirement: Bachelor's Degree
Experience Requirement:
Four (4) years of work experience in assigned area or Master's Degree in Library Science (MLS) plus two (2) years of professional
library experience in circulation, reference or youth services, or collection management. Must have supervisory experience totaling one (1) year. Previous experience working with the public and general knowledge of computers is required.
Additional essential functions for assignment in Programs:
Manage, direct and organize activities of library programs system-wide, including community outreach and services
including literacy and program for all ages.
Assess long term library service needs and interests of the community.
Manage the development of programs, resources, and systems to meet these needs, including the identification,
submittal, supervision and administration of grant programs.
Collaborates with other department managers and librarians to support centralized Library programs.
Acts as a liaison to maintain awareness of community events, interests and needs, which avail themselves to current or
potential library services and programs; attends community meetings to stimulate interest in the Library.
Coordinates all marketing, publicity and partnership initiatives for Library programs.
Tracks and analyzes program data and statistics; creates financial, statistical and narrative reports on Library programs.
Makes presentations to library staff, the Library Advisory Boards and other groups.
Participates in the development of programming budgets. Develops projections for future needs in resources and staff
to meet goals and objectives.
Acts as Liaison to the Friends of the Library in conjunction with the Library Division Director.
Assists with Library Reference Services and provides support to the Branch Manager as needed.
Oversees the Program Committee and Youth Services Committee.
For complete job description and to apply: https://cityofsantafenmemployees.munisselfservice.com//EmploymentOpportunities/ApplicationEntry.aspx?form=0001&req=734&sreq=1&desc=LIBRARY%20SECTION%20MANAGER