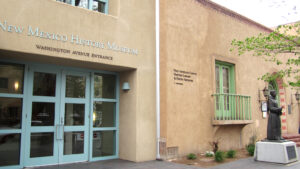 Contract Archivist Job at the New Mexico History Museum in Santa Fe

The New Mexico History Museum seeks a one-year contract archivist to carry out archival work in support of an NEH-funded grant project on Native American voting rights. 
The guest archivist will,
process, digitize and describe any incoming collections acquired or identified during exhibition field work;

create and upload files and metadata to facilitate public access to newly digitized or described materials; and


work with NMHM staff on open-access and community consultation policies.  
For best consideration, email Kathleen Dull (HistoryLibrary@state.nm.us) on or before November 2, 2021. Please attach a resume and cover letter and use the subject line: NEH Guest Archivist: [Your Last Name] 
Additional Details: The New Mexico History Museum is planning a 2023 exhibition on Native American voting rights in honor of Isleta Pueblo veteran and educator Miguel Trujillo. Primarily, the guest archivist will be responsible for the appraisal, arrangement, housing, cataloging, description, and inventory of archival collections arriving during the exhibition development process. These materials may include documents, photos, films, oral history interviews, and digital materials. They will create descriptions for these collections to support interpretation, exhibition content, and long-term access. They will contribute to the creation, copy editing, and updating of records in ArchivesSpace and in a digital asset management system (i.e. ContentDM).
Also, they will research ways to improve NMHM's access and use policies, with an eye toward policy changes that will support diversity, equity, access, and inclusion for all New Mexico's communities, and with a sensitivity to and focus on the needs of tribal communities. This may include background reading on open access and archival ethics, recommendations on best practices, and review of governing rules and policies. The guest archivist will compile documentation, summaries, and findings based on this research. They will, depending upon experience, make recommendations for policy updates and propose plans for implementation. Lessons learned from this work will inform NMHM's digital access policies as well as shape processes for initiating conversations and relationships with New Mexico's Tribal communities around NMHM's collections.
The guest archivist will report to NMHM's project director for the grant and will be collaborating with the archivists at the Palace of the Governors Photo Archives, the librarians at The Fray Angélico Chávez Library, and the guest curator of the exhibition.
Compensation is $27/hour and will be administered by the Museum of New Mexico Foundation. Starting as soon as November 2021, the guest archivist should commit to working about 30 hours per week for 50 weeks (available one year compensation of up to $40,500). Work must be complete by the end of 2022.
The guest archivist will need to reside in New Mexico for the duration of the contract: primary responsibilities (work with physical collections) will be done on site at NMHM in Santa Fe. They must be available to attend meetings in Santa Fe and Albuquerque. However, some telework days are also possible (especially for digital records and policy development work). Relocation expenses are not reimbursed.
Recommended Education and Experience: Master's in Library and Information Science, Archival Administration, Public History, History, Anthropology, Indigenous Studies, American Studies, Museum Studies, or related field, and two years of work experience processing, describing, and digitizing archival collections. The ideal candidate will have demonstrated success as an individual contributor on collaborative projects and show competencies in 20th Century southwest history, Native American history, Indigenous Studies, and/or tribal consultation.
Minimum Qualifications: Bachelor's in Library and Information Science, History, Anthropology, Indigenous Studies, Museum Studies, or related field, and two years of work experience in archives. Any combination of education from an accredited college or university in a related field and/or direct experience in this occupation totaling five years may substitute for the required education and experience.