Did you know that the New Mexico State Library has ebooks available to individuals throughout the state (no library card required)?
This eBook and eAudio book collection, New Mexico Reads, primarily includes Southwest history and culture titles, and fiction by Southwest based authors or books that are set in the Southwest, and is expanding all the time!
Instructions for how to register as a user and additional information can be found in our research guide, New Mexico Reads
From the collection – available in both e-book and e-audio book –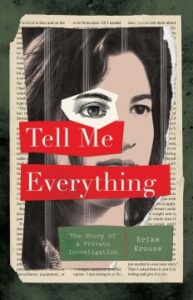 Colorado author Erika Krouse's new book Tell Me Everything: The Story of a Private Investigation.
A New York Times Book Review Editors' ChoicePart memoir and part literary true crime, Tell Me Everything is the mesmerizing story of a landmark sexual assault investigation and the female private investigator who helped crack it open. Erika Krouse has one of those faces. "I don't know why I'm telling you this," people say, spilling confessions. In fall 2002, Erika accepts a new contract job investigating lawsuits as a private investigator. The role seems perfect for her, but she quickly realizes she has no idea what she's doing. Then a lawyer named Grayson assigns her to investigate a sexual assault, a college student who was attacked by football players and recruits at a party a year earlier. Erika knows she should turn the assignment down. Her own history with sexual violence makes it all too personal. But she takes the job anyway, inspired by Grayson's conviction that he could help change things forever. And maybe she could, too.Over the next five years, Erika learns everything she can about P. I. technique, tracking down witnesses and investigating a culture of sexual assault and harassment ingrained in the university's football program. But as the investigation grows into a national scandal and a historic civil rights case that revolutionizes Title IX law, Erika finds herself increasingly consumed. When the case and her life both implode at the same time, Erika must figure out how to help win the case without losing herself.
If you have any problems using New Mexico Reads, contact us at 505-476-9702 or at reference@state.nm.us