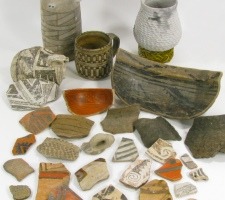 Archeologists often compare their sites to libraries, where they can read about the past through the objects that they have collected there. This year's Summer Reading themes of Dig into Reading, Beneath the Surface, and Groundbreaking Reads made the metaphor too good to pass up, so the State Library has partnered with the New Mexico Office of Archaeological Studies (OAS) to provide some programs about archeology and archeologists at libraries around the state.
The programs are on New Mexico History and Lifeways and give patrons of all ages a chance to see and touch ancient artifacts and learn how archaeologists use them to learn about the past.
The libraries hosting programs are:
Clovis-Carver Public Library: May 30
Tatum Community Library: June 6
Glenwood Library : June 13
Marshall Memorial Public Library (Deming):  June 14
Eagle Nest Public Library: June 18
Arthur Johnson Memorial Library (Raton): June 19
Village of Corona Public Library : June 20th
Tony Hillerman Branch Library (Albuquerque/Bernalillo County): June 22nd
Even before this Summer's programs,  the Office of Archaeological Studies, had done programs in about 20 public libraries, large and small, in New Mexico. So, even if you didn't have a program this summer, you can learn more about their programs and work with them to bring one to your library in the future.