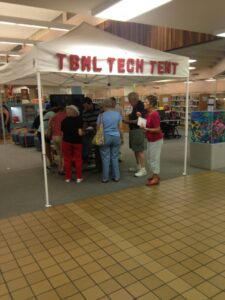 Submitted by Renee Payne Frankel, Library Administrator at Thomas Branigan Memorial Library
Since September 2014, customers at Thomas Branigan Memorial Library in Las Cruces have been getting help using their e-readers, smart phones and tablets at the Library in a weekly Tech Tent.
Senior Library Assistant Tracee Waters, who came up with the idea, is enthusiastic. "It was great," Waters said. "Our e-Use committee was brainstorming how to promote electronic services, and I said, 'let's pitch the shade tent that we use for outdoor events inside and call it the technology tent!'  Everyone started throwing ideas out and soon we had a winner!"
Part-time Library Assistant Ryan Roy, who staff the Tech Tent agrees. "Since we began at the end of September, the one-hour sessions from 11 am 'til noon on Wednesdays draw, on average, a half-dozen people per week. Some only come once or twice to learn just the basics, while one woman," Roy adds, "has come almost every single time. She says she wants to learn absolutely everything her device can do. It keeps me sharp figuring out on the spot what she asks every week," he chuckles. "I actually enjoy that kind of challenge, though I hope she doesn't stop attending the Tech Tent until we do figure out everything her device can do."
Branigan Library offers its users a wide range of e-services, and all of them are supported by the Tech Tent. Its e-book collection features items from the 3M Cloud Library, Freading, and OneClickdigital. In addition, there is downloadable and streamable music with Freegal as well as online magazines from Zinio.
"We're extremely pleased with the overall positive public response to our e-services and the Tech Tent, and I truly appreciate the great effort and attitude of our staff," said Renee Payne Frankel, Library Administrator. "People see that we're always looking for ways to deliver the very best library services we can, and they appreciate that. "Also, she added, "I give kudos to the Branigan Library staff for their hard work and helpful attitude in all they do, not only the Tech Tent. They all deserve praise for the great customer service they give to our users."
Branigan Library is located at 200 E. Picacho Ave. in Las Cruces and is open 64 hours per week. Hours are Sunday (closed Memorial Day weekend through Labor Day weekend) 1 pm to 5pm; Monday – Thursday 9 am – 8 pm; Friday and Saturday 10 am – 6 pm. For more information:  rfrankel@las-cruces.org or 575-528-4000, or http://library.las-cruces.org.