April is National Poetry Month. And if you are poetically challenged (like me!), this is a tricky month to program for.
However, there is a simple solution, and a fabulous poetry format perfect for the library! It is called "book spine poetry." You use the titles on the spines of books as the lines of poetry. A stack of books then makes a poem.
These are a few I made up using the books publishers send us (they are mostly YA, so please note the dark and brooding tone).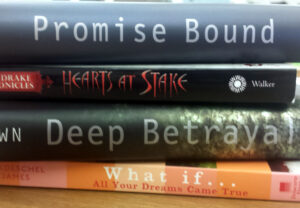 You can share your (or your patrons) poems online at 100 Scope Notes, nationally — or email your snapshots to me to post right here on the Hitchhiker! And it might be a cool contest idea for your library. Best of all, I can see poets of all ages getting involved!