The State Library's Public Services Bureau has been working with vendor Gale Cengage to make El Portal, the collection of online resources provided freely to the public throughout New Mexico, easier to use. The thoughtful responses of the 100 librarians who replied to the recent El Portal survey, many of whom also took time to speak with us at the NMLA Conference, were crucial to this effort. Thank you!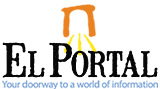 A few things you asked for – added databases, for example – cost more than we can afford. These have been added to a wish list, in case money should become available. Other requests can be managed quickly. Here are some of the things that come with the new, improved El Portal:
Link to Advanced Search directly from the opening page. No more bogus searches to get to this feature!
Choose special entry points for Elementary School, Middle School, High School, or Public Library level resources. Each entry point will show the list of resources included in it and offer a search box that searches those resources only. If you don't want to choose a special entry point you can still use the general search box as before.
See a complete resource list so you can see clearly what you are searching.
Later this year there will also be a new support page giving libraries access to Gale training and to information to help you put El Portal icons, widgets, and search boxes on your own web pages.
The clearer, more easily navigated interface is just the start. When it's up and running we will move on to other improvements suggested by survey comments. These include new ways to offer training; resource pages showing free sources of information to begin to cover subject areas where we can't afford the new databases requested; and handouts you can customize and give to school students or adult library patrons. Expect to hear more here in The Hitchhiker. Librarians asked for better communication about El Portal, and this is where we will deliver it.
If you didn't take part in the survey, or if you thought of 42 new things after you'd already finished, it's never too late to share your ideas. Comments, questions, and suggestions are always welcome; complaints – well, they may not exactly be welcome, but they are certainly always helpul! Please call Caroline Dechert, Reference Services Manager, at 505-476-9763, or email either caroline.dechert@state.nm.us or reference@state.nm.us.