By Liana Morales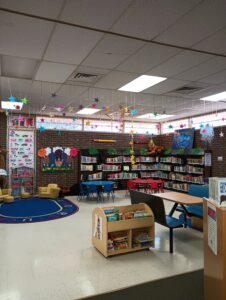 I had the fortunate experience of visiting Moise Memorial Public Library in Santa Rosa on St. Patrick's Day. I met with Priscilla "Chill" Chavez, library aide, and Dina Martinez, library director, who showed me around.
The purpose of my visit was to deliver a collection of promotional materials, books, and a community coloring board. This activity features a page from "A is for Artist," a coloring book produced by the Department of Cultural Affairs with illustrations of the alphabet, New Mexico style.
I arrived in the late afternoon and dropped off these items, but I left with a deep sense of gratitude for the work that these dedicated women have done to bring the community together through the library.
A brief background
The current library building opened to the public on November 16, 1968 and was dedicated by Justice Irwin S. Moise who practiced law in Santa Rosa in the 1930s. The facility is a part of the City of Santa Rosa and is funded by the city and a trust fund set up through the Moise family. Their active Friends of the Library group works to promote early literacy. They also organize events such as book giveaways, read alouds, and other programs by coordinating with the Moise Memorial Library and Santa Rosa Consolidated Schools.
A variety of collections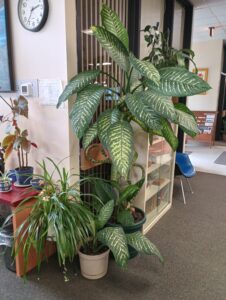 I spent some time admiring the book collection that includes a substantial Southwest section and audiobook section. The shelves are full with every genre, with magazines and newspapers also available near the counter. At one large corner of the library, there is a spacious computer lab with new and updated equipment. On the opposite side are plenty of study tables and chairs where I could set up my laptop and use the WiFi to check my email during my visit. The children's section is a large open space with ample room for programs and events. The library team is gearing up for their annual summer reading program with this year's theme: "All Together Now." There are colorful stars that come down from the ceiling with the names of all the young participants from last year's summer reading program. If the number of stars is any indication of the program's success, this year's event is sure to be another big hit!
One other feature of the library is their impressive indoor plant collection. Patrons can bring in their plants to add to the collection and also gather cuttings to take home so it truly is like an indoor community container garden! There is an outdoor garden space located right outside of the side exit of the library as well. Now that spring is here, Santa Rosa residents can use the space to grow vegetables, herbs, flowers, and other plants.
Literary connections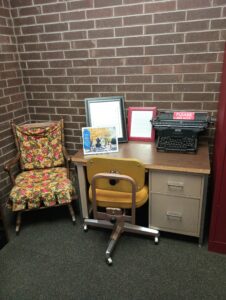 Did you know that Rudolfo Anaya's personal book collection, writing desk, and typewriter are all located inside this very library? Bless Me, Ultima is one of my favorite books so to see the actual desk that Anaya used to write this novel was awe-inspiring. In fact, his letter to the Moise Library upon the donation of his collection has some words of inspiration for anyone who visits:
"You can achieve your dreams through consistency, discipline, and hard work. I did pretty good on that desk, que no? I hope it inspires others to achieve their dreams." – Rudolfo Anaya
I cannot forget to mention the commissioned painting by Eric J. Garcia that was inspired by one of the most memorable chapters in Bless Me, Ultima. And there are many other eye-catching artworks by NM artists to admire displayed throughout the building. It was truly a pleasure to visit and have a tour of Moise Memorial Library. If you're ever in Santa Rosa, stop in and say hello! To make a day trip out of it, I recommend cruising down historic route 66 and grabbing a coffee or tea at Mr. Bee's. Then, head out to the Blue Hole to view the natural wonder of the 80-foot deep artesian spring. One of the best spots for lunch is at Chico's Tortas y Piñas Lokas. For the curious, Puerto de Luna is about 10 miles out of town and worth the drive. It is the village where Anaya's mother is from and the location that inspired Bless Me, Ultima. There you can see some historical buildings and take in the beautiful landscape by the banks of the Pecos River. The real life setting will transport you to back in time to the world of Antonio and Ultima if you visit.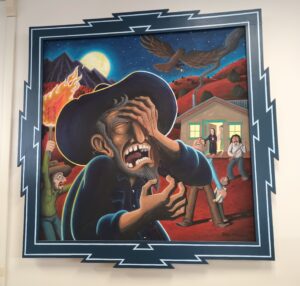 Learn more
You can view a virtual tour the Moise Library and find out more by visiting their website at https://www.moisememoriallibrary.com.
My visit to Moise Library was a part of a pilot library delivery service project from the New Mexico State Library. I made deliveries to several libraries during the month of March and April with more to come in May and June. I hope to create more connections with the many amazing libraries and library staff in the Land of Enchantment. For more information about what the State Library can deliver to your library, please send an email to liana.morales@dca.nm.gov.