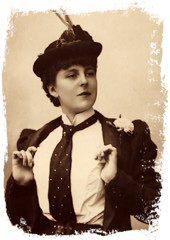 CHICAGO – The Amelia Bloomer Project, a product of the ALA Social Responsibilities Round Table's (SRRT) Feminist Taskforce, announced the 2015 Amelia Bloomer List at ALA's Midwinter Meeting in Chicago, held Jan. 30- Feb. 3, 2015.
The bibliography consists of well written and illustrated books with significant feminist content, intended for young readers from birth to 18 years old. This year's list includes titles published between July 1, 2013 and Dec. 31, 2014.
Named for Amelia Bloomer, a pioneering 19th century newspaper editor, feminist thinker, public speaker and suffragist, the list features books about girls and women that spur the imagination while confronting traditional female stereotypes.
The bibliography is intended to aid children and teens in selecting high-quality books released over the past 18 months and may be used for a recommended reading list for youth and those who interact with them and as a collection development or reader's advisory tool for interested librarians. The top 10 titles of the 2015 Amelia Bloomer List include:
Cooper, Ilene. "A Woman in the House (and Senate): How Women Came to Congress, Broke Down Barriers, and Changed the Country." 2014. 144p. Abrams, $24.95 (978-1-4197-1036-0). Gr. 4-8.
Mandana, Kavitha. "A Pair of Twins." Illus. by Nayantara Surendranath. 2014. unpaged. Karadi Tales, $11.95 (978-8-181-90302-0). Gr. K-3.
Manning, Kate. "My Notorious Life." 2013. 434 p. Scribner, $26.99 (978-145169806-0). Gr. 10-up.
McCarney, Rosemary with Jen Albaugh and Plan International. "Because I am a Girl: I can change the world." 2014. 95p. Second Story Press, $16.9 (978-1-927583-44-9). Gr. 5-8.
McCarney Rosemary with Plan International. "Every Day is Malala Day." 2014. Unpaged. Second Story Press, $18.95 (978-1-927583-31-9). Gr. K-up.
Napoli, Donna Jo. "Hidden." 2014. 384p. Paula Wiseman-Simon & Schuster, $17.99 (978-1-4424-8300-2).  Gr. 7-up
Prince, Liz. "Tomboy." 2014. 256p. Zest, $15.99 (978-1-936976-55-3). Gr. 9-up.
Sherr, Lynn. "Sally Ride: America's First Woman in Space. 2014." 400p. Simon & Schuster, $28.00 (978-1-4767-2576-5). Gr. 10-up.
Wilson, G. Willow. "Ms. Marvel: No Normal." Illus. by Adrian Alphona. 2014. Unpaged.  Marvel, $15.99 (978-0-7851-9021-9). Gr. 8-up.
Yousafzai, Malala, with Patricia McCormick. "I Am Malala: How One Girl Stood Up for Education and Changed the World:" Young Readers Edition. 2014. 224p. Little, Brown Books for Young Readers, $17.00 (978-0-316-32793-0). Gr. 5-10.
To view the complete annotated list, please visit the Amelia Bloomer Project blog, http://ameliabloomer.wordpress.com/
The Amelia Bloomer Project committee members are  Linda Parsons, co-chair, The Ohio State University, Marion (Ohio); Joy Worland, co-chair, Joslin Memorial Library (Vermont) ; Ann Bever, Dallas Public Library (Texas); Katelyn Browne, Capital City Public Charter School (Washington, District of Columbia); Emily Fear, Sewickley Public Library (Pennsylvania); Katie Mitchell, Saline District Library (Michigan); Lalitha Nataraj, Escondido Public Library (California); Gesse Stark-Smith, Multnomah County Library (Oregon), Lizz Zitron, Pacific Lutheran University (Washington).
The ALA Social Responsibilities Round Table (SRRT) is a unit within the American Library Association. It works to make ALA more democratic and to establish progressive priorities not only for the Association, but also for the entire profession. Concern for human and economic rights was an important element in the founding of SRRT and remains an urgent concern today. SRRT believes that libraries and librarians must recognize and help solve social problems and inequities in order to carry out their mandate to work for the common good and bolster democracy. SRRT's main Web site is hosted at http://libr.org/SRRT.
Program Officer, Outreach and Communications
ALA Office for Literacy and Outreach Services